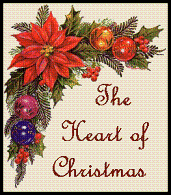 Last year, before I was a blogger,
THIS
blogger did something so wonderfully fun for Christmas! She is apparently not doing it this year, much to my extreme dissappointment! :( *sniffles* Well who says that has to spoil my fun? Every year I want to make homemade things but get distracted and then don't get anything finished in time. What better way to keep me motivated and focused on the TRUE heart of CHRISTmas than a fun interactive bloggy carnival with all of you! What do you say? Want to join the fun?
What to put in your posts
(you can use any one, several, or all of these ideas in each post):
-Something about how you stay focused on Jesus.
-Something you have bought/made as a gift for someone, or a link to an idea for a project you would LIKE to make for a gift.
-A Christmas recipe.
-Talk about one of your family traditions, why you do it and what it means.
-A sweet Christmas memory.
-Anything else that is related to the HEART of Christmas, having a sweet and thankful spirit, handmade with love, giving, helping the needy, avoiding getting stressed out, avoiding focus on money and gifts, seeing Jesus as the bringer of every good and perfect gift, etc.
We want to
avoid
posts that encourage complaining and stressing, focus on money/Santa/gifts (commercialism), and keeping up with the Jones'.
INSTRUCTIONS:
I will try to post a Heart of CHRISTmas post at least once a week and link it. You may link a post every week, or every day, or just once or twice. You know I'd love it if you linked often of course... Lol! But I know you can't post if you don't have something you feel like posting about. ;) So just join in when you want to. :) There is not a specific day of the week to do this. Just come here and link up each time you have a qualifying post.
1. Write a post that falls within the guidelines above. (Or you can use an old post of like a Christmas craft or recipe or gift idea.)
2.
Include this button in the post.
If you would like, you can put it in your blog's sidebar too to draw more people to this meme. Use the code provided which links the button back here so people can browse the other participating blogs.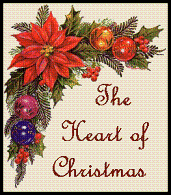 3.
Link your post to the MckLinky below
so others can find it! :) Please include the name of your blog and most importantly the title of your post in the "Name" field when linking. LINK DIRECTLY TO THE SPECIFIC POST, not just to your blog in general. For example my first link will not go merely to http://everypreciousjoy.blogspot.com/ - it will instead be a specific link to a specific post; http://everypreciousjoy.blogspot.com/2009/10/heart-of-christmas-1.html. Make sense? Link to the post, not the whole blog.
4. Browse the other posts in the MckLinky list to see what others are doing for CHRISTmas. We all love comments so if you'd like to leave some love for the other participants we'd be ever so excited! :D