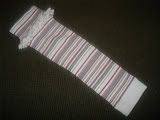 My first Giveaway! The prize is pair of "babylegs" - leg warmers, made by me from a cute pair of socks: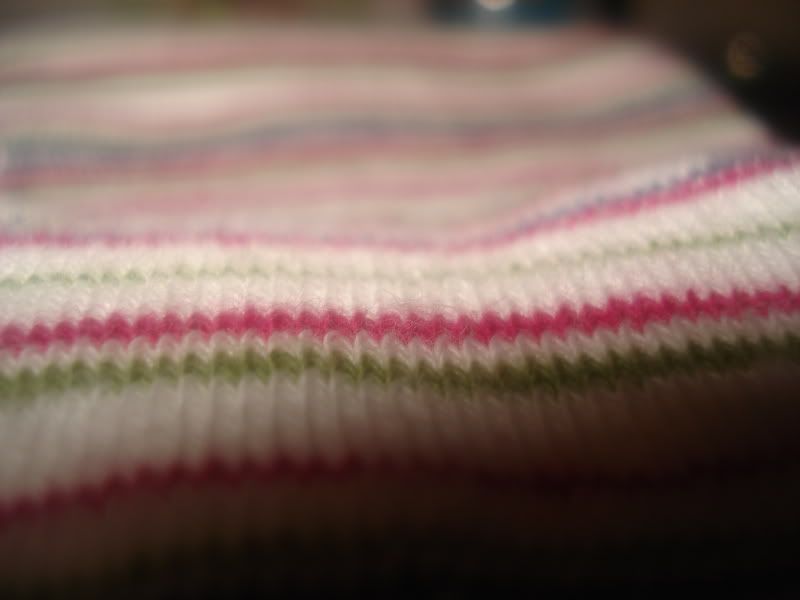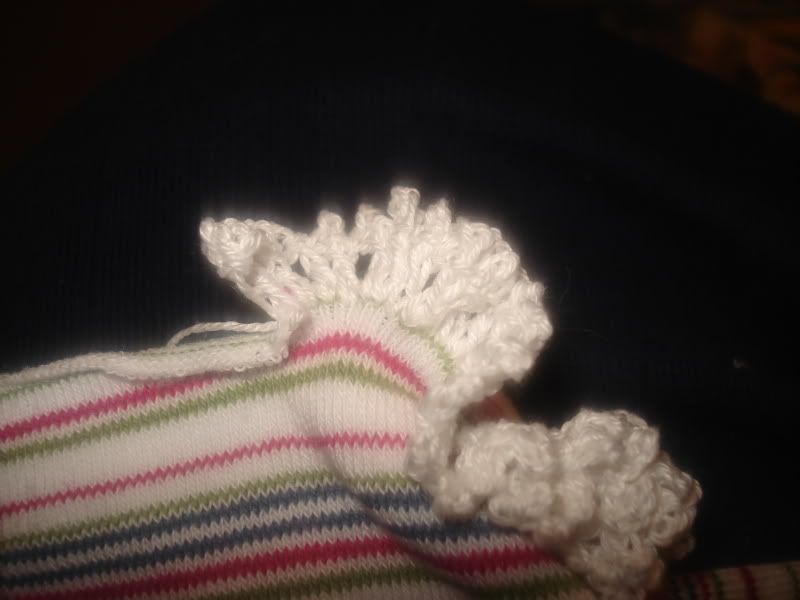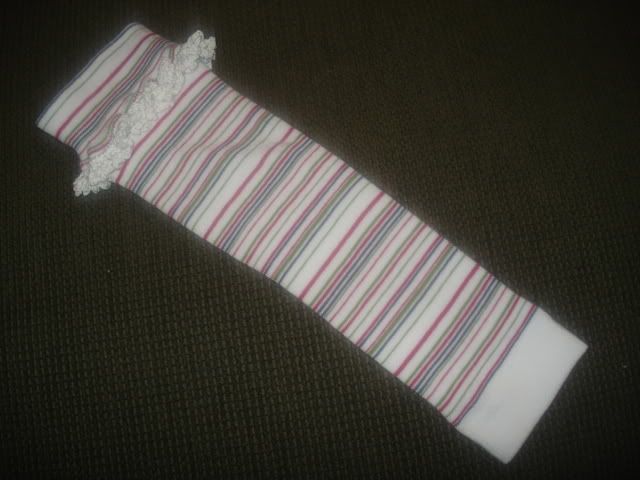 PRIZE:
The prize will be 1 pair of babylegs (infant leg warmers) made by me. These are not official Babylegs brand, they are sewn by me, made from a pair of new socks. They are good for potty training in winter when it's too chilly to go pants-less but having pants on would cause accidents. They look cute with just a onesie, or under a dress or skirt. Good for going out or staying in. Good for protecting a crawler's knees from a hard floor. The prize pair is striped, with hand-crochet lace, as pictured. These should fit an infant up to about 2 years of age. If you need to know if they'll fit your child, please measure the child's leg where you want the leg warmer to cover and tell me the measurements and I will give you a good guess as to whether or not they will fit.
HOW TO WIN:
Winner will be chosen this Friday morning, August 28th, as soon as I wake up, by
Random.org
from the entries received. To qualify, you must leave an email address where I can contact you. Giveaway is open to residents of the US only (this time, for shipping reasons- I'm sorry to my Canadian and UK friends! I love you! I just can't afford the shipping that far!). I will email the winner Friday morning at the conclusion of this giveaway. If you win and do not respond within 2 days of my emailing you (If you still haven't responded by the time I go to bed Sunday night), then the Prize will be awarded to the first runner up instead. If you should so happen to be the lucky winner, you will need to provide me with a mailing address to which I can mail it. P.O. Boxes are fine, work addresses, home addresses, whatever you feel comfortable with. I wish I could just turn the prize into data and email it to you but since that only works in the move Timeline, I will have to send it the old fashioned way. If you are not comfortable providing me an address to mail it to, please do not enter.
DISCLAIMER:
I am not responsible to compensate you for the results of any errors, accidents, or oversights. I am not responsible for lost winner-notification emails or lost responses from you. I am not responsible for Post Office damages or delivery issues. If the P.O. can't deliver your prize for any reason, I am not responsible. If they lose it, I'm not responsible. If it takes 6 months to get from my P.O. to your address, I am not responsible. If a tornado snaches up the mail truck and eats your prize I am not responsible.
I will not be held responsible for anything that happens to your prize after it leaves my home.
I cannot refund (since no money is involved) or replace your prize for any reason.
I am not responsible to compensate you in any way for the results of any technological errors or glitches, any typos, any misunderstandings, any misuse/loss/damages of the prize after it has left my hands, and I am not responsible to compensate you for the prize not being what you expected. I am a mom, and I'm sure most of you know how hard it is to take toddelers to the post office, so please understand if it takes a few days to a week to get it mailed out. I will let you know when it is sent so you can be on the lookout for it.
Now that we've got all that junk outta the way, here's the good part ;) :
HOW TO ENTER:
To enter, please leave a comment on this post that
includes your email address
where I can contact you if you win, and in the body of your comment you should
tell me about your child/children's favorite article of clothing or dress up item
.
For extra entries you may post a blog entry with a link to this giveaway, or TWEET it. Please post 1 time for each type of entry (EXAMPLE:
post 1-"My baby loves to wear [insert your kiddo's cuteness story here]"
post 2-"I Tweeted this [insert link to tweet]"
post 3-"Blogged this [insert link to post where you blogged it]").
No duplicate entries allowed- i.e. only one entry of each type per person.