Don't Forget to enter for a chance to win a pair of Babylegs!
I don't think I could possibly be any more tired today. I was up LATE (early? 2:30am) last night getting the picture of the
Babylegs
up for the giveaway and other such fun internet doings that are easier to do when everyone is in bed. Chicket decided to get up for the day at 3am and she sleeps in our room so she kept sitting up and poking me. "Mama! Mama! Mama, Daddy is SNORING!" No kidding. Lucky Daddy... *sigh* It's now almost 2:00 in the afternoon and she hasn't taken a nap yet. I'm hoping she will soon because I need one SO BAD! Bug however is snoozing away. He skipped morning nap so he's pooped. Poor wittle fellow! I am jealous though- wish I was snoozing away.
Okay I'll quit whining about my half hour of sleep now.
I was thinking of posting the crochet pattern for the 'lace' I used on the
Babylegs
. Any other crochet fanatics out there? The stand-alone basic pattern is actually super duper easy. You just need to know how to make a chain, double crochet, and single crochet. Picot is explained in the pattern.
Stand-alone Lace
Steel crochet hook size 7
A few yards of cotton crochet thread size 10 or 20 in your chice of color
(Picot- ch 3, sc in 3rd ch from hook. 1 picot made.)
Row 1: Chain a chain about 1/4 inch shorter than the length you need the finished lace to be. It will get a bit longer as you work. Turn, sc in each ch to the end. Turn.
Row 2: Ch 3 (counts as first dc), *work Picot, dc in next sc. Repeat from * to end of row. Tie off.
Finishing: Attach to project with tacky glue, or a stretchy sewing machine stitch like the zig-zag. Remember if you are applying it to a fabric that will be washed that cotton thread may shrink a bit in the wash, so you may wish to make the lace extra long and then gather it a bit as you sew it on so it won't pull the fabric if it shrinks in the wash.
Crocheted Into Knit Project
Steel crochet hook size 9 (crochet slightly loosely)
A few yards of cotton crochet thread size 10 or 20 in your chice of color
(Picot- ch 3, sc in 3rd ch from hook. 1 picot made.)
NOTE: The easiest fabric to crochet into is a knit fabric like the socks I used for the
Babylegs
. When crocheting into the edge of a fabric, it's best to zig-zag or hem the edges before adding the crochet so the edges to not unravel as you are working with them. Alternately, for knit fabrics, you may crochet into the loose loops to hold the edge from unravelling with your crochet work. You must make sure to catch every loop though or it will unravel. You may also go over the finished product where the lace is attached to the fabric using a decorative or zig-zag stitch to give the lace extra hold into the fabric and catch any loops you may have missed. These instructions are for crocheting into the raw edge of a knit fabric.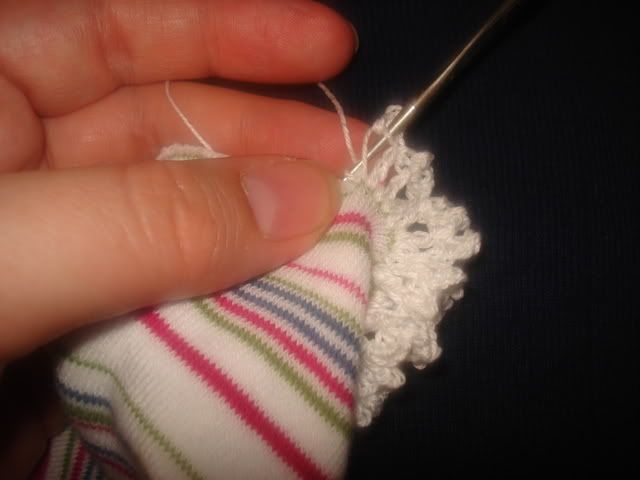 Row/Rnd 1: Tie a slip knot noose at the end of your thread. This will be your starting loop. Put hook through fabric where you want the first stitch to go. This should be a little ways into the fabric in a rib with a loose loop at the edge. Pull your slipknot loop back through the fabric and chain 3. Counts as first dc. *Work Picot, dc in next rib that has a loose loop. Repeat from * to the end and tie off and hide tails, OR repeat from * around and sl st in top of first ch 3 to join, tie off and hide tails.