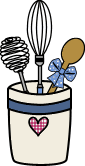 Happy Fry-day! :) With the colder weather moving in, at least at night, I thought a nice soup recipe was in order! When it's cold out there's nothing more comforting than snuggling up with a nice hot chocolate or hot soup!
Potato Cheese Soup
3 potatoes (peeled and quartered)
1 small onion (finely chopped)
1 C water
1 tsp Salt
3 C milk
2 T. flour
half a stick of butter
Dash of pepper
1 C grated cheese
In a saucepan, bring potatoes, onion, water, and salt to a boil. Cover and turn down to a simmer...
Meanwhile, put the milk in the blender with the flour and blend until there are no lumps.
Back in your pot, simmer until potatoes are tender through. Do not drain; mash them a bit with a fork. Stir in all the rest of the ingredients except cheese. Cook and stir over medium heat until thickened and bubbley. Remove from heat and stir in cheese. Garnish with parsley and a pinch of shredded cheese.
I hope everyone has a terrific weekend! Don't forget to enter my
giveaway
before Tuesday night! ;)