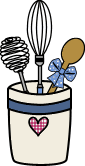 This is the tastiest fruit salad sauce recipe I have ever tasted! This preggo lady has a serious fruit salad craving now. ;) Feeds a crowd, or a smaller family for a few days. Prepare this the night before it is to be eaten so it has time to marinate! I have no memory of where I got the original but I know I've made some alterations to it over the years to personalize it to our tastes and here's what it has become:
FAVORITE FRUIT SALAD
In a small saucepan combine the following ingredients:
2 T. sugar
2 T. Orange or Lemon juice
2 T. Vinegar or Pineapple juice
2 previously beaten Eggs
Cook and stir over medium heat until thickened.
Immediately remove from heat and stir in:
1 T. Butter
pinch of Salt
Set aside or in fridge to cool.
~
Place
16oz. Sour Cream
in a bowl. Fold cooled egg mixture into Sour Cream. Cover and refrigerate sauce while you prepare fruit.
~
Cube various fruit to make
7-8 C. of cubed Fruit
. Pour sauce over fruit, cover, and refrigerate overnight. Toss before serving. Keep refrigerated! Do not keep longer than 3 days total. 12-16 servings.
Fruit ideas: Kiwis, Peaches, Nectarines, Apples, Grapes, Plums, Pineapples... whatever suits your taste buds.
Linking up today to