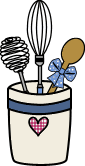 Breakfast Burritos
You will need large tortillas, eggs, potatoes chopped into small chunks, salt and pepper to taste, and cooked chopped meat if you eat meat- sausage or bacon or any kind you prefer or have leftover. You may add a chopped onion if you'd like. You have to go by how much you think your family will eat and like of each of the ingredients. It's not an exact science, you just add more of what you have more of and less of what you have less of and fill in the gap with eggs.
You will also need grated cheese.
To start, in an extra large skillet, put your meat and potatoes and onion and cook them until the meat is done but not overdone and the potatoes are cooked through. Add salt/pepper and eggs to make enough to feed your family and scramble it until it's done. Put a big scoop of scrambled egg mixture on a tortilla and sprinkle with cheese. Roll it up and serve hot.
If it suits you, you could add chopped bell peppers with the onions. Add or subtract whatever sounds good to you.