The Autumn Dishcloth giveaway seemed like such a hit that I decided to do it again! ;) So if you didn't win last time, here's your chance to try again! And this time, I'm throwing in a little cookbook this time as a bonus.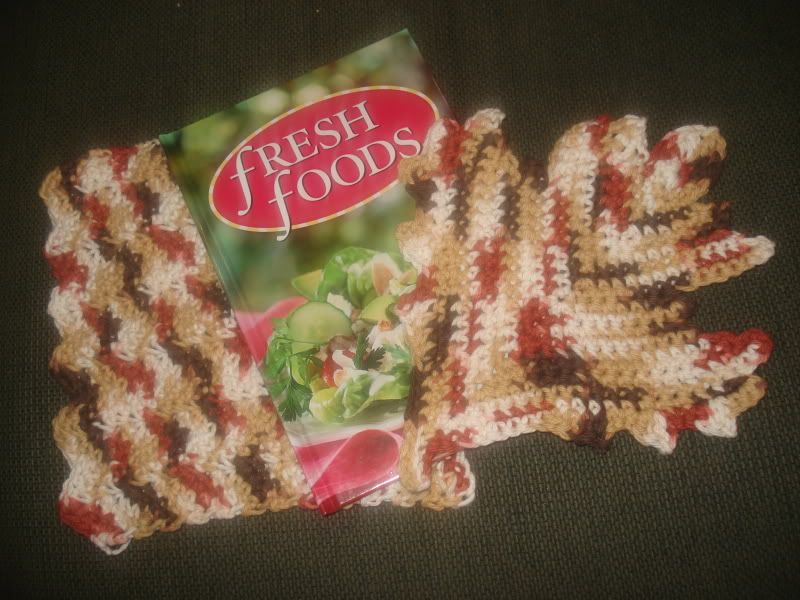 The winner will receive the 3 items pictured above. :)
TO ENTER:
1. Leave a comment on this post. COMMENT MUST have your email linked into it or have email posted in it so I have a way to get ahold of you.
2. If you are a public follower, or become a public follower of this blog before the giveaway is over, please make a SEPRATE post telling me you're a follower and it will count as a second entry (if you have entered first with a comment as detailed above).
3. For MORE ENTRIES, Make a blog post (
and/or
Tweet) with the link to this giveaway and then come back and post a seprate comment on this post saying you have blogged/tweeted it so that I can check.
PRIZE:
The prize is a small cookbook called "Fresh Foods" and a set of two 100% cotton dishcloths as seen in the photo. One is a ripple pattern, and one is made to look like a leaf. These are crocheted by me. We do not smoke nor allow anyone to smoke in our home, we do not have a dog, BUT we do have a cat, a rather hairy one at that, so if you're allergic you might wanna put the dishcloths straight into the washing machine before you oogle them. ;)
DISCLAIMER:
The usual. The dishcloths are a labor of love, handmade with care. Being hand made, each one is a UNIQUE one of a kind creation. I did NOT use a pattern for these! I once again made it up as I went along, although at least this time I had practice from before and knew what the end result would look like. I do plan on writing down the pattern for the leaf one someday. I retain all rights to the design and would appreciate it if you would not try to copy the leaf to sell, because that would be stealing and stealing is bad.
If you wish to purchase a set as a gift for someone, or for yourself should you enter but not win, I would be more than happy to see what I can work out for you! I can make a pair up in a week if the kids let me. ;) Contact me at mamamirage (atsign) yahoo (dot) com for more information.
I cannot refund or replace your prize for any reason because it is a gift, not a purchase.
I am not responsible to compensate you in any way for the results of any technological errors or glitches, any typos, any misunderstandings, any misuse/loss/damages of the prize after it has left my hands, and I am not responsible to compensate you for the prize not being what you expected.
I am not responsible for anything that happens to it in the mail. After it leaves my hands and enters those of the USPS, any delays or damages are the fault of the US postal system and I am not liable.
I'm not rich so it will be shipped cheap and may therefore be slow to arrive.
Please understand I'm a mommy and I know you moms know how hard it can be to get to the post office with multiple toddlers. So please extend me some grace if I am slow to get it to the P.O. for mailing. I will try to let you know when I have mailed it so you know when to expect it.
WINNING:
MUST BE IN THE USA TO ENTER at this time. I'm really sorry but I cannot afford the shipping out of the country. I wish I could and if at a later date I am able to afford that, I will have giveaways open to everyone!
Giveaway ends when I wake up the morning of Wednesday, September 30th. At that time I will lock the replies and that will signal the end of the giveaway. I will announce the winner as soon as I can on Wednesday.
To claim your prize you must check my blog and/or your email on Wednesday, September 30th to see if you've won and if so, you must reply to me via email with your mailing address as soon as possible. If you have not gotten your mailing address to me by October 6th, the prize will be forfeited.
[EDIT: Congratulations to the winner of this giveaway- Annie!]