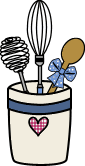 I'm in the mood for some lemonade! Not that too-sweet kind that comes in a frozen concentrate or the powdered kind that is full of cancer-causing NutraSweet. Oh no, I'm talking real lemonade from real lemons and real lemon juice! Not too sweet, but not too sour. Mmmm! Just perfect for a warm end-of-summer afternoon!
Lemonade:
3 lemons
1/2 C. storebought lemon juice
1 C. sugar
2 Qts. water
2 Qt. pitcher and long wooden spoon to mix with
Wash lemons. Squeeze juice from lemons into a large pitcher. Add sugar; fill pitcher with 1 qt. water. Chop rinds into large pieces and let soak in lemonade. Stir well until sugar is totally dissolved, then stir a bit longer. Strain rinds out of juice. Add storebought lemon juice and fill with water to the 2 Qt. mark. Refrigerate until cold or serve over ice. Best if used within 24 hours.
NEW!!
Friend recipe of the week! Check out the yummy looking
Granola Recipe
over at
Too Many Kids In The Bathtub
! :)
To see my previously posted "Fry-Day" recipes, click
HERE
.