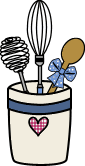 Happy Fry-day! Yes pun intended... Hehe. Tuesday I baked cookies. They are deeeelicious! I always use Nestle Tollhouse Morsels and the Tollhouse recipe on the bag but I make a couple alterations to give it that personal touch.
1) First of all I add a generous sprinkling of cinnamon. I love cinnamon and it brings out the flavors nicely. If I were to measure it, it would probably be about 2 teaspoons of cinnamon. But I don't measure it. I know, bad me! I just kind turn the shaker upside down over the bowl, give it a couple good whacks, and call it good. I love cinnamon. If you are not a total cinnamon fanatic like me though you might want to only add one tsp. ;)
2) I never ever substitute anything for the butter. My number one cardinal rule of making sweets is to ALWAYS use REAL and FULL-FAT or it won't taste as good! No low-fat garbage in my sweets, oh no! So I always use real butter never ever margerine or shortening. (Another of my rules is no semi-sweet chips. I use milk chocolate chips because they taste richer.)
3) Where it says to use 3/4 C. of white sugar and 3/4 C. of brown sugar, I actually use 1 C. brown sugar and 1/2 C. white sugar. It just improves the flavor.
4) I like to use twice as much vanilla because it just tastes yummier with two teaspoonfulls of vanilla than it does with one.
5) I sometimes use extra chocolate chips, sometimes not. Depends if I have them. Sometimes I mix other flavors of chips instead or along with. They taste really good with 1 C. milk chocolate chips and 1 C. butterscotch chips together! Or instead of half and half milk choc. and butterscotch you could do half and half milk choc. and white choc. chips. Or half semisweet. Or half mint chips. Whatever sounds yummy.
And
6) just for fun sometimes I bake them in a muffin tin. They come out all cute and rounded. :) Like bar cookies only round and no cutting required. I put a rounded Tblsp. of dough in each cup and do not use paper liners. After baking, cool one minute and then remove with a plastic fork. Plastic forks are flexible and you can just scoop that cookie right out of there with a plastic fork where a metal one would mangle it.